About us
4 partners from 3 countries are collaborating on this two-year project
Today's people should be able to live and work in a fast-moving, interdependent and complex global society and should also be aware of, reflect on, and discuss development topics. This multilingual website enables its visitors to understand and possibly take action on opportunities, responsibilities and threats, which globalisation brings into focus, and thus help them to build their own idea about nowadays world and their role in it. As a whole it provides visitors with the opportunity to understand and engage in the issues with which the world is forced to cope.
The website monda.eu as a main product of the project Global E-learning helps people to learn about issues which interconnects our common world in a innovative, interactive and user-friendly way. The interface and content is suitable for users with different ICT skills, interests and needs. It extends current information sources (as Global Education Resource Centres), provides experts for consultations and engages users in communication with others.
It is available in 9 languages at its launch, official languages of 7 New Member states of the EU (Bulgarian, Czech, Hungarian, Polish, Rumanian, Slovak, Slovenian) and English and German. However, it is technically prepared for adding other languages. To provide information it uses a e-pedagogical approach, including innovative ICT methods as games and quizzes, which makes learning enjoyable and entertaining.
The website is technically prepared for further translations and project team would be glad if this knowledge could be spread to other parts of the world as well. If you are interested in translating the website, please, contact our team at info@studiogaus.com.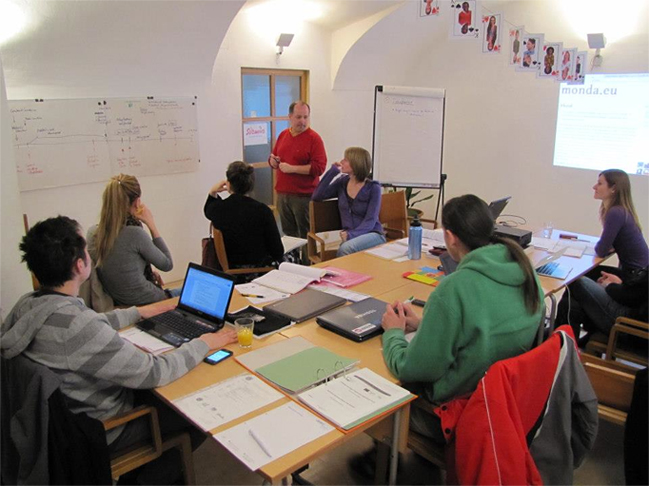 Our team

Slovak Centre for Communication and Development, n.o.
/ Slovakia
Slovak Centre for Communication and Development was founded in year 2005. We are focused on two areas of activities – Global Education and development assistance, primarily in the former USSR countries. In addition, we manage a development volunteer programme. We act as a publishing house, exhibition organiser and provide expert consultation services. We operate the public library oriented on global issues.

Education@Internet
/ Slovakia
E@I (Education@Internet) is an international youth organisation, which promotes international collaboration and communication throughout the world by creating and hosting educational projects supporting intercultural learning and the usage of languages and internet technologies. In collaborative projects it focuses on intercultural learning, languages and IT usage, website development, CD/DVD/book publishing, production of publicity and training materials and organisation of seminars.

Studio GAUS
/ Germany
Studio GAUS is a new media agency headquartered in Germany. The company has a vast range of activities, which include everything from corporate identity design till website development and Search Engine Optimisation (SEO). The agency has extensive experience in designing and creating complex multilingual websites with large user bases, as well as experience in cooperation with various organisations and businesses at the international level. It mainly focuses on educational projects.

Südwind Agentur
/ Austria
For more than 30 years Südwind, an Austrian Non Governmental Organisation is advocating for a sustainable global development, Human Rights and fair working conditions across the world. Through curricular and extracurricular educational work, the publication of Südwind magazine and other related publications Südwind ensures that the issue of global dependencies and their consequences remain part of the public discourse.